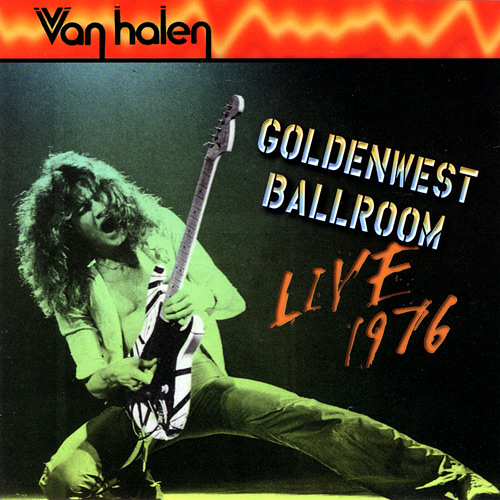 Van Halen
- Goldenwest Ballroom
VHCDJPN5150
 (1976)
Hard Rock
In Collection

#2845
0*
 01
  On Fire
 
 
 
  02:35
 02
  Show Your Love
 
 
 
  04:37
 03
  Last Child
 
 
 
  04:27
 04
  Tush
 
 
 
  03:05
 05
  The Rover
 
 
 
  06:19
 06
  Let's Get Rockin'
 
 
 
  03:11
 07
  Ice Cream Man
 
 
 
  05:12
 08
  Last Night
 
 
 
  03:52
 09
  Eruption
 
 
 
  03:09
 10
  We Die Young
 
 
 
  03:36
 11
  Somebody Get Me A Doctor
 
 
 
  04:47
 12
  Babe Don't Leave Me Alone
 
 
 
  04:14
 13
  Let Me Swim In Your Ocean
 
 
 
  01:40
 14
  She's The Woman
 
 
 
  03:23
Cat. Number
AP-1001
UPC (Barcode)
624441740026
Packaging
Jewel Case
Sound
Stereo

Vocals
David Lee Roth
Guitar
Eddie Van Halen
Bass
Michael Anthony
Drums
Alex Van Halen
The Goldenwest Ballroom, Norwalk, CA, May 9, 1976

The cover shows Edward wailing on his black and white striped Kramer. A very old Van Halen logo graces the upper left corner.
The inside of the 2 page cover shows a collage of older VH pictures, along with a flyer from a show at the Goldenwest Ballroom. However, this flyer is from an earlier performance of the band at that location on March 13, 1976. The actual date of this particular show was May 9, 1976.
The backside of the cover has text on top of a picture of Alex pounding out the beat to some tune. The text talks about the venue, the show and how some of the songs done that night have never been released on LP or CD (until now).
The rear cover shows an early pic of VH sitting in front of their equipment, along with the track listing.
Called "Listen Up Shenkar" on test pressings and came with plain, typed inserts instead of the full color ones in this release. "Shenkar" is a reference to Michael Shenkar's band, UFO, which Van Halen opened for that evening.
Track 2 is actually "I'm The One".
Track 10 is actually "We Die Bold".
Track 13 is actually "Oceanside".
"Last Night" is an early version of "Hang 'em High".
According to the back cover, Tracks 10 and 13 have never been released on any VH Bootleg.
The sound quality is excellent for this very early recording. This is a must have for any serious Van Halen fan.