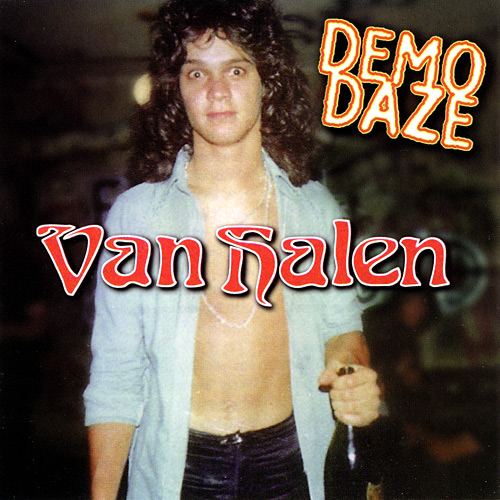 VHCDJPN5150
 (1976)
Hard Rock
In Collection

#2832
0*
 01
  Babe Dont Leave Me Alone
 
 
 
  03:12
 02
  Fools
 
 
 
  04:33
 03
  Ice Cream Man
 
 
 
  03:56
 04
  She's The Woman
 
 
 
  02:00
 05
  Voodoo Queen
 
 
 
  03:34
 06
  Radio Intro On KROQ
 
 
 
  00:47
 07
  House Of Pain
 
 
 
  03:15
 08
  Runnin' With The Devil
 
 
 
  03:42
 09
  Take Your Whiskey Home
 
 
 
  03:40
 10
  Simple Rhyme
 
 
 
  03:35
 11
  Take It Back
 
 
 
  02:45
 12
  Don't Call Us
 
 
 
  04:02
 13
  Bullet Head
 
 
 
  03:31
 14
  Voodoo Queen
 
 
 
  04:59
 15
  Take Your Whiskey Home
 
 
 
  03:54
 16
  Fools
 
 
 
  05:55
 17
  Walk Away
 
 
 
  03:57
 18
  Rock Steady
 
 
 
  05:36
Cat. Number
VHCDJPN5150
UPC (Barcode)
704814440024
Packaging
Jewel Case
Sound
Stereo

Vocals
David Lee Roth
Guitar
Eddie Van Halen
Bass
Michael Anthony
Drums
Alex Van Halen
Tracks 1 through 4 are from January of 1976.
Tracks 6 through 8 come from the "On Fire In Fresno" CD.
Tracks 9 through 11 have Mark Stone on Bass and are from 1974.
Tracks 12 through 18 are from 1976.
VooDoo Queen is misspelled twice on the back cover as "Vodoo Queen", but is spelled correctly in the liner notes.
Called "Van Halen Studio Demos" on test pressings and came with plain, typed inserts instead of the full color ones in this release.
The front cover shows a very young Eddie holding a bottle of (champagne) with an open shirt (circa 1975)? Cover says "Demo Daze" in the right hand upper corner with "Van Halen" in red letters in the center. Inside front cover opens up with another picture of Ed in black satin wearing sunglasses upside down and tounge sticking out. Below this is a picture (circa 1979) of the band in the studio. Turning the cover over exposes detailed liner notes with a picture of Michael in the background.
The back cover has a picture od Dave (circa 1976) leaning against a wall with the words "Van Halen" above his head and the track listings to the right of that.
The disc is dark blue with "74-76 D" on the bottom of the disc.
Most of this disc is soundboard but there are a couple of tracks that are audience. Sound is at least comparible to "'77 + Live" disc.