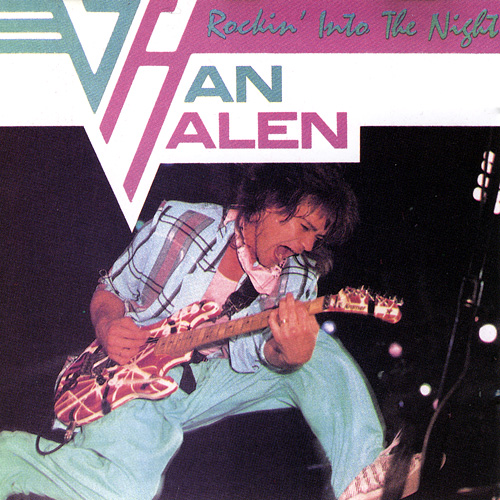 Van Halen
- Rockin' Into The Night
Red Robin Records
 (1978)
Hard Rock
In Collection

#2834
0*
 01
  I'm On Fire
 
 
 
  02:57
 02
  I'm The One
 
 
 
  04:31
 03
  Runnin With The Devil
 
 
 
  04:23
 04
  Atomic Punk
 
 
 
  03:36
 05
  Little Dreamer
 
 
 
  04:04
 06
  Down In Flames
 
 
 
  04:23
 07
  Feel Your Love
 
 
 
  04:06
 08
  Ain't Talkin Bout Love
 
 
 
  07:35
 09
  Ice Cream Man
 
 
 
  05:05
 10
  Somebody Get Me A Doctor
 
 
 
  03:39
 11
  Eruption - D.O.A.
 
 
 
  08:02
 12
  Jamie's Crying
 
 
 
  03:14
 13
  You Really Got Me
 
 
 
  06:44
 14
  Bottoms Up
 
 
 
  05:15
 15
  Summertime Blues
 
 
 
  02:52
Cat. Number
04
Packaging
Jewel Case
Sound
Stereo

Vocals
David Lee Roth
Guitar
Eddie Van Halen
Bass
Michael Anthony
Drums
Alex Van Halen
Live, Osaka, Japan, 1978

The front has a picture of Ed, circa 1978. The back has got a nice full color closeup shot of DLR. Sound quality is so-so for a recording from this era. All the dialog between songs has been edited out in this one.
An interesting song on this one is "Down In Flames." Would anyone out there know if this was a Van Halen cover, or was it an unreleased Van Halen song that they just happened to play in concert?
Dave isn't too trashed in this one, and actually does sing most the lyrics.