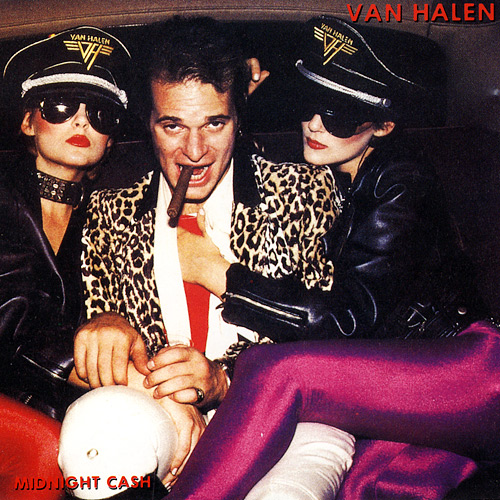 Van Halen
- Midnight Cash
Faze Two
 (1977)
Hard Rock
In Collection

#2833
0*
 01
  On Fire
 
 
 
  03:45
 02
  Feel Your Love Tonight
 
 
 
  04:16
 03
  Runnin' With The Devil
 
 
 
  04:24
 04
  Atomic Punk
 
 
 
  03:32
 05
  Little Dreamer
 
 
 
  03:07
 06
  Somebody Get Me A Doctor
 
 
 
  04:37
 07
  Ice Cream Man
 
 
 
  03:54
 08
  Ain't Talking 'bout Love
 
 
 
  04:24
 09
  Eruption
 
 
 
  03:45
 10
  D.O.A
 
 
 
  05:00
 11
  You Really Got Me
 
 
 
  04:37
 12
  House Of Pain -Diff Lyrics -Outake
 
 
 
  03:38
 13
  Runnin' With The Devil -Outake
 
 
 
  03:28
Cat. Number
MC 078
Packaging
Jewel Case
Sound
Stereo

Vocals
David Lee Roth
Guitar
Eddie Van Halen
Bass
Michael Anthony
Drums
Alex Van Halen
Civic Auditorium - Pasadena, CA - October 15, 1977

Tracks 1-11 are the same as "The Atomic Punks", but the sound quality is a little bit better.
"House of Pain" and "Runnin' With the Devil" are both studio out-takes.
"House of Pain" has different lyrics than what is on "1984".
Front cover- Pick of Dave in the back of a limo smoking a cigar w/two girls on either side of him wearing VH hats (police style).
Inside jacket: Has a pic of each member.
Mike: Lying on amps w/basses all around him.
Ed: Ed wearing a white suit seated at a piano.
Al: Sitting w/drums.
Dave: Live shot.
Back Cover: Has a pic of the guys around a table playing poker (or some card game) w/girls around.