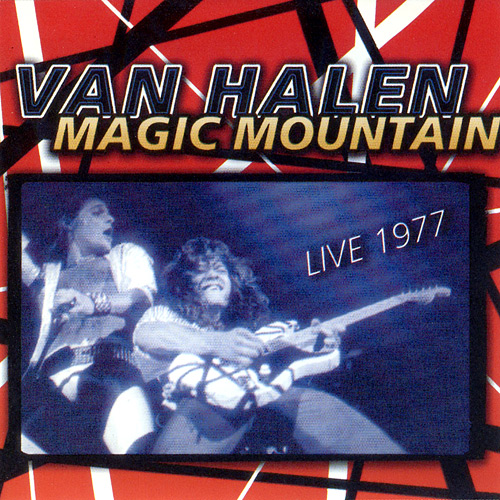 Van Halen
- Magic Mountain '77
The Atomic Punks
 (1977)
Hard Rock
In Collection

#2831
0*
 01
  On Fire
 
 
 
  04:57
 02
  One More Time
 
 
 
  04:12
 03
  Running With The Devil
 
 
 
  04:05
 04
  Atomic Punk
 
 
 
  03:06
 05
  Aint Talkin 'bout Love
 
 
 
  04:37
 06
  Loss Of Control
 
 
 
  03:47
 07
  No More Waiting
 
 
 
  03:54
 08
  Eruption
 
 
 
  02:44
 09
  Fell Your Love Tonight
 
 
 
  04:06
 10
  Show Your Love
 
 
 
  04:32
 11
  Summertime Blues
 
 
 
  06:00
 12
  Angel Eyes
 
 
 
  03:04
 13
  Take Your Whiskey Home
 
 
 
  03:55
 14
  In A Simple Rhyme
 
 
 
  03:48
Cat. Number
-
UPC (Barcode)
905339368558
Packaging
Jewel Case
Sound
Stereo

Vocals
David Lee Roth
Guitar
Eddie Van Halen
Bass
Michael Anthony
Drums
Alex Van Halen
Live at The Magic Mountain - Six Flags. Valencia, California\nOctober 1977

This is a professionally done CD-R. The disc itself is silk-screened maroon with the words "Magic Mountain" printed in bold letters. The liner notes on this disc are printed on very high quality glossy paper. Quality comparable to "That's All Folks!"
The front cover is a picture of Dave and Ed on stage in front of a red, black, and white guitar pattern.
The inside front is a picture of all four band members.
The inside back is a picture of Eddie (looks like he's in the studio) with his guitar in the middle of a story from someone who was at the concert that day, claiming to have been really messed up from "many bong tokes"!! He also goes on to describe the entire disc. An interesting note is at the bottom of this story in fine print is: "Buyer Beware: If this cd booklet looks like a cheap Xerox copy, don't buy it. The CD should be a high quality CDR with a real CD like booklet."
The under disc tray art is a picture of Eddie and Alex on Yamaha dirt bikes.
The back is a picture of all four members hanging around a Cadillac stretch limo in front of a pharmacy. Above it is a listing of the songs in red.
The sound is excellent for a 22 year old recording. All the instruments come through nice and clear. At times there is some slight feedback during the show, but none takes away from enjoying the show.
Track 2 is noted on the artwork as "Unreleased By VH, Only known Live Version", a very fast rocking song.
Track 6 is noted on the artwork as "Earliest Live Version Of Song From Women & Childern First".
Track 7 is noted on the artwork as "Unreleased By VH, Only Known Live Version On Soundboard". This is really "Show No Mercy" and the intro is the same as "Take Me Back(Deja Vu)" from "Balance".
Track 11 is noted on the artwork as "Rare Cover, Earliest Known Live version By VH". There is too much bass on this one song.
Track 12 "Angel Eyes" is an absolutely beautiful acoustic song by Dave. Not your typical VH, probably the reason it was never released, but Dave fans will love it! The sound is excellent...very clear. Supposedly from 1974, one of the rarest songs from the DLR era.
Tracks 13 and 14 are the same versions from "Demo Daze" but claim to be from a much lower generation tape source.
All said......this disc is a must have for every Van Halen fan if you can get your hands on one! This is one of their first shows after being signed by Warner Bros.