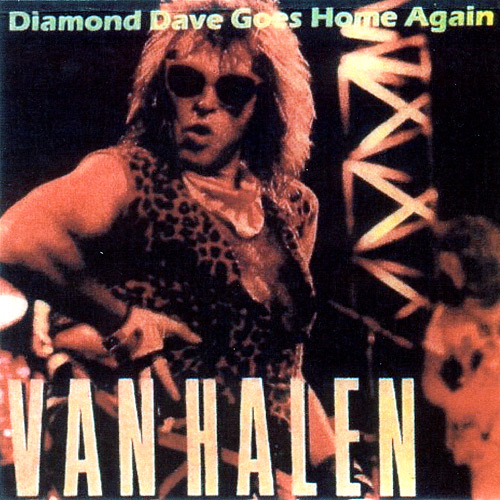 Van Halen
- Diamond Dave Goes Home Again
Arena Discs
 (1984)
Hard Rock
In Collection

#2827
0*
 01
 
 
 
 
  04:22
 02
 
 
 
 
  07:55
 03
 
 
 
 
  02:58
 04
 
 
 
 
  06:10
 05
 
 
 
 
  05:12
 06
 
 
 
 
  05:55
 07
 
 
 
 
  05:50
 08
 
 
 
 
  00:57
 09
 
 
 
 
  04:26
 10
 
 
 
 
  15:54
 11
 
 
 
 
  02:53
 12
 
 
 
 
  04:46
Cat. Number
001
Packaging
Jewel Case
Sound
Stereo

Vocals
David Lee Roth
Guitar
Eddie Van Halen
Bass
Michael Anthony
Drums
Alex Van Halen
July 6, 1984 - Indianapolis

The front cover shows Dave on stage with his right hand on his waist wearing a red/black leopard print shirt, a white/red bandana around his neck and red frame sunglasses. You can see Eddie in the lower right side and part of Mike standing behind Dave (might ne from the Panama video). "VAN HALEN" is in large orange letters along the bottom right and "Diamond Dave Goes Home Again" in green letters along the top. This is the only place throughout the packaging where the word "again" appears. "Diamond Dave Goes Home" might be considered the proper title for this disc.
The back of the jewel case is a promo shot from 1984 (Alex in suit and tie, Dave in black shirt with yellow pin stripes, Ed in dice shirt and blue jeans with leather patches, and Mike in white shirt and red pants). In blue letters, the songs are listed in the lower left and "Arena Discs 001" appears in the lower right. Along the top it says "Live in Indianapolis July 4, 1984", but the correct date is July 6th.
The inside shows a closeup of Eddie playing guitar with "VAN HALEN" in large orange letters in the upper left and "Eddie's 4th Of July Fireworks" in light-green letters along the bottom edge of the photo. This is the picture from the Hot For Teacher single.
This CD is a CD-R copy. The paper label on the disc shows the four in a photo from Diver Down (Mike with suspenders, Alex in a striped shirt, Dave with arms crossed and bullet belt and Eddie in a checkerboard shirt). On the left is "Arena Discs 001" in green letters and on the right "Diamond Dave Goes Home" in orange letters.
Despite being an audience recording, this disc has better sound than the San Diego, the Quebec and the Nuremberg shows on CD. It does have alot of audience cheering and at times, Eddie's guitar is distant in clarity.
Dave raps with the audience at the end of Track 4. He mentions that he was born in Indiana. He also tells the audience to cuss with him. "Don't that make you feel better?" Dave continues his lewd talk during Little Guitars.
Track 10, "Listen To This Jimmy" is Eddie's guitar solo
This disc is the best sound quality recording of all the 1984 tour bootleg discs, currently available. The packaging looks like computer color printouts. Recommended for VH-Dave fans. If you can find it, get it.